Runnels, Pete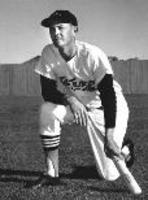 Born:
January 28, 1928 - May 20, 1991
Hometown:
Lufkin, TX
Sport:
Baseball
Team:
Washington Senators, Boston Red Sox & Houston Colt .45s
Bio:
In his 14 years in the major leagues, Pete Runnels of Lufkin, Texas, won two American League batting crowns. He hit .320 in 1960 and .326 in 1962, and was runner-up to Ted Williams for the 1958 crown. Runnels played on American League All-Star teams in 1959, 1960, and 1962 and had a lifetime batting average of .291. He hit over .300 for five consecutive seasons, had 20 or more doubles six times, and tied a major-league record with nine hits in a doubleheader. During his baseball career, Runnels played with the Washington Senators (1951-1957), Boston Red Sox (1958-1962) and the Houston Colt .45�s (1963-1964). Runnels was inducted into the Texas Sports Hall of Fame in 1982.