Staff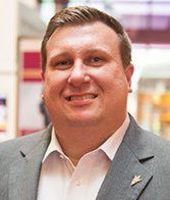 Cooper Jones
President / CEO
E-mail:
The Texas Sports Hall of Fame has a new person in charge.

The Hall of Fame announced Cooper Jones as its president and chief executive officer on Monday. Jones replaces Jared Mosley, who left the Hall on Sept. 1 to become the athletic director at North Texas.

Jones comes to Waco from Arizona State University, where he served as executive associate athletics director for development. During his four-year tenure in Tempe, he led a development team that raised more than $185 million for the athletic department.

Prior to Arizona State, Jones was senior associate AD at North Texas. He has also held athletic positions at Louisville, Maryland and Georgia Tech in a career that spans more than 17 years.

"We are thrilled to welcome Cooper and his family to Waco," said Ed Page, chairman of the Hall of Fame board of trustees. "Cooper is perfectly suited to lead the Texas Sports Hall of Fame in its next chapter of success, and his background as a progressive and highly successful fundraiser and external relations professional will serve the Hall of Fame well in the future."

Page said the Hall of Fame had more than 70 applicants for the position.

Jones said he was "humbled and honored" to take the leadership reins of the Hall of Fame.

"I will work hard every day to preserve, protect and advance its legacy," Jones said.

Jay Black, vice president of museum operations, served as the interim president during the search.

Jones grew up in Conyers, Georgia, and later played football at Ohio University, where he graduated with a degree in public relations and journalism. He and his wife Tiffany, a former all-ACC athlete at Georgia Tech, have a 3-year-old son Jack and 1-year-old twins, Annie and Janie.
Courtesy of the Waco Tribune Herald
Tuesday, December 20, 2016