News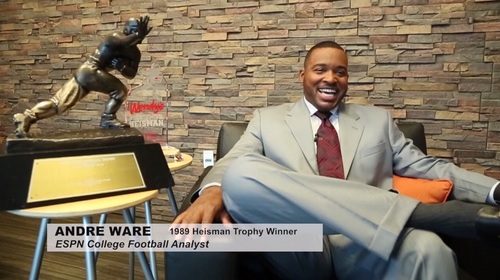 Andre Ware was inducted into the TSHOF in 2011. He is the first athlete inductee to serve on the Texas Sports HOF selection committee. The selection committee has been choosing members of the Texas Sports Hall of Fame since 1951. They meet once a year to set the ballot for the upcoming class of inductees.
The 1989 Heisman Trophy winner from the University of Houston played professional football for 9 years before venturing into broadcasting. He has broadcasted college football games on ESPN, ESPN 2, and ESPN on ABC. In 2009 he began doing coverage of SEC football for ESPN's Regional Television. He is also currently a member of the radio broadcasting team for the Houston Texans.
Check out this year's nominees. Follow this link to participate in this year's election for the class of 2021. Deadline to become a member is July 15.
Back to index...