News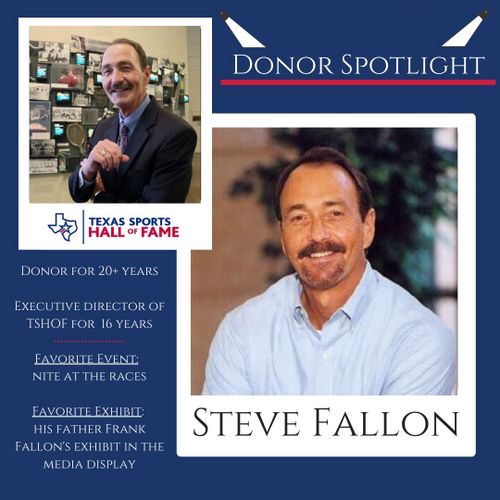 Steve Fallon has been involved with Texas Sports Hall of Fame for over twenty years. Fallon began his journey with TSHOF in February 1997 as Executive Director and held that position for sixteen years. During his tenure, he was known as wonderful leader who lead by example and placed great emphasis on the importance of preserving Texas sports history. He also guided the hall through an expansion in 2010 that added the Health, Fitness, and Education Center along with the Southwest Conference exhibit gallery.
Fallon was a donor throughout the entirety of his career here at TSHOF and has continued to donate every year since. He donates to insure the conservation of Texas sports history and the continuation of educational programs for the youth. He also contributes to insure a future for TSHOF, a future where he would like to see, "the organization continue to grow and possibly add electronic displays and games to enhance the opportunity for old folks, like me, to bring their grandchildren to the hall."
Fallon has a unique tie to TSHOF, not only was he Executive Director, but his Father, Frank Fallon, was inducted into the Texas Sports Hall of Fame as a media member in 2005. Frank Fallon was a broadcaster for Baylor University Men's Basketball and Football programs for 42 years and was known as the voice of the Final Fours for 20 years. Steve Fallon's favorite exhibit in the museum is the radio announcer exhibit and he loves to come listen to old recordings of his father's distinctive voice broadcasting live games.
He is forever grateful to TSHOF for the countless friends he has made over the years, the chance to meet and work with hall of fame induction classes and celebrities, and opportunity to have a mark in how Texas sports history is remembered. TSHOF and Fallon encourage anyone who is able to donate to the museum to keep the history and tradition alive.
"The people, volunteers, board members and staff at TSHOF are all good solid people who have a vision for TSHOF and literally give like crazy and it is marvelous to be around people who make you better every day and I hope that continues for a long, long time." – Steve Fallon
To donate to TSHOF click here
Back to index...