News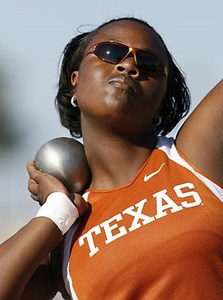 Waco, Texas(Feb. 7, 2020) ­­­— Three-time shot putter Olympian Michelle Carter will be inducted into the Texas Sports Hall of Fame in Waco on March 28.
Michelle Carter is the most successful female shot putter in American history. She began her career in 1997 as a junior in high school where she won eight shot put state championships at Red Oak High School.
Carter received a full track scholarship to The University of Texas, where she became a 7-time All American and won 5 Big 12 titles.
In 2006, Carter won the NCAA indoor shot champion while helping the University of Texas win the indoor national championship. Carter medaled in the shot put at four other NCAA Championship events, placing second on three occasions. In 2008, Carter followed in her father's footsteps by joining the Olympic team.
A three-time Olympian, she finished 15th at Beijing in 2008, 5th at London in 2012 and won the gold medal in the shot put at the Rio de Janeiro Olympics in 2016. Her throw of 67'8.25" set an American record. She was the first American female to win gold in the event and the first to medal in the shot since Earlene Brown won Bronze at the 1960 Olympics.
Since then, Carter has created a sports confidence camp in 2017 known as, "You Throw Girl" for female athletes in all sports in grades sixth 6th -12th grade.
Michelle joins her father Michael Carter who was inducted in 2002 as the first father - daughter combo to be honored by the Texas Sports Hall of Fame.
Carter will be one of the seven inductees honored at the Texas Sports Hall of fame on March 28. She will be joined by- Baltimore Ravens Quarterback Robert Griffin III, former Houston Texan punter Shane Lechler, International soccer star Clint Dempsey, former New York Liberty point guard Teresa Weatherspoon, Former Texas Ranger baseman Adrian Beltre and five time US Olympian runner Francie Larrieu Smith.
The TSHOF Class of 2020, presented by Texas Farm Bureau Insurance, will be honored on Saturday, March 28, 2020 in Waco, Texas.
SCHEDULE
4:00 PM Reception at the Texas Sports Hall of Fame, 1108 S. University Parks Drive, Waco, TX 76710
4:30 PM News Conference at the Texas Sports Hall of Fame
6:00 PM Induction Banquet Begins at the Waco Convention Center
TICKETS
Combination Reception & Banquet Tickets are $200 each or $1,400 for a reserved table of 8.
Banquet Only Tickets are $75 each or a $600 for a reserved table of 8.
Please call 800-567-9561 to order.
###
About the Texas Sports Hall of Fame:

The Texas Sports Hall of Fame and Museum, located in Waco, Texas, chronicles the heroes and legends of the Lone Star State sports at all levels, including high school standouts, Olympians and professionals. Established in 1993, the organization's mission is to preserve the legacies of all inductees and the history of sports in Texas to educate and inspire guests of all ages. Home to nearly 400 Texas Legends, the museum houses Texas Tennis Museum and Hall of Fame and Texas High School Football Hall of Fame. For more information, please visit http://www.tshof.org/.
Back to index...