News
Texas A&M legend joins Nancy Lieberman, Loyd Phillips and more as part of the Texas Sports Hall of Fame's Class of 2019.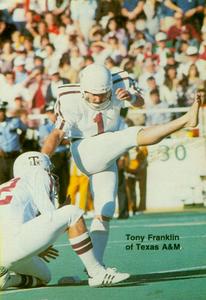 WACO, Texas (March 8, 2019)—The Texas Sports Hall of Fame in Waco will induct former Texas A&M Kicker and NFL legend Tony Franklin as a part of their class of 2019 at the annual induction banquet on March 30.
Franklin was the first ever Texas A&M kicker to receive a full-ride scholarship to the university. The Big Spring, Texas native set the NCAA record on Oct. 16, 1976 for a 65-yard field goal, and to this day remains the only NCAA kicker to have successfully completed two field goals of sixty yards or greater in the same game.
Throughout Franklin's college career, he broke 18 NCAA records, including the record for most field goals in 50 yards or greater in his career at 16 field goals, the record for most field goals made in just a three-year career at 45 field goals and the record for career kick scoring at 291 points. He was awarded All-American honors in 1976 and 1978 and was known at a "Legend of the Sun Bowl" at the 1977 bowl game against Florida for his 63-yard field goal score. Franklin was also awarded honors such as Second-Team All-American in 1977, Playboy Pre-Season All-American in both 1977 and 1978, All-Southwest Conference First Team, twice named All-Southwest Conference Second Team, All-Time Southwest Conference First Team, 1970s All-Decade Team, Best of the last 25 years All-American Teams (1969-1993), Top 75 College Football Players of All-Time and All-American selection by the Football Writers Association of America.
After his college career, Franklin was drafted by the Philadelphia Eagles in 1979, in which he kicked the first barefoot field goal in the history of the NFL. Franklin continued to kick for the Eagles until he was traded to the New England Patriots in 1983. Franklin led the NFL in field goals made with 32 goals and scoring at 140 points in 1986. In the same year, he was elected to represent the AFC in the Pro Bowl. He played in two Super Bowls before finishing his 10-year NFL career with the Miami Dolphins.
Franklin will be one of seven inductees honored at the Texas Sports Hall of Fame banquet on March 30. He will be joined by the family of former Tennis legend Maureen Connolly Brinker (deceased), former Houston Texas Wide Receiver Andre Johnson, former professional basketball star Nancy Lieberman, former University of Arkansas Outland Trophy winner Loyd Phillips, former University of Texas and MLB pitcher Greg Swindell and Dallas Cowboys All-Pro Tight End Jason Witten.
The class of 2019 Inductees will be honored on Saturday, March 30 at 6 p.m. at the Waco Convention Center. Before the banquet, the Texas Sports Hall of Fame will host a reception at 4 p.m. Combination Reception and Banquet tickets can be purchased for $200 each or $1,400 for a reserved table of eight. Tickets for the banquet only can be purchased for $75 each or $600 for a reserved table of eight. To purchase tickets or for more information, please call 800-567-9561 or visit http://www.tshof.org/buy-tickets/.
###
Header photo courtesy of the Philadelphia Eagles.
About the Texas Sports Hall of Fame:

The Texas Sports Hall of Fame and Museum, located in Waco, Texas, chronicles the heroes and legends of the Lone Star State sports at all levels, including high school standouts, Olympians and professionals. Established in 1993, the organization's mission is to preserve the legacies of all inductees and the history of sports in Texas to educate and inspire guests of all ages. Home to over 300 Texas Legends, the museum houses Texas Tennis Museum and Hall of Fame and Texas High School Football Hall of Fame. For more information, please visit http://www.tshof.org/.
Back to index...