News
University of Arkansas All-American Loyd Phillips to be inducted into the Texas Sports HOF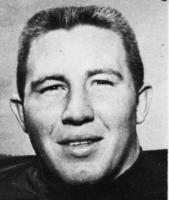 WACO, Texas (Feb. 12, 2019)—Two-time All American Defensive Tackle for the University of Arkansas Loyd Phillips will join six other honorees in the class of 2019 at the Texas Sports Hall of Fame annual banquet on March 30.
Phillips grew up in Longview, Texas and played for the Longview Lobos, in which he was twice named all-district at guard, nose guard and linebacker. He made the All-State team in 1962 as a senior and later committed to play at the University of Arkansas.
As a Razorback, Phillips was a three-time All-Southwest Conference defensive tackle from 1964-1966, a consensus All-American in 1965 and a unanimous All- American selection in 1966. Phillips won the Outland Trophy as the nation's top interior lineman in 1966, and the university had a 29-3 record during the time that he anchored the defensive strategy. He was selected to the SWC All-Decade team in the 1960s by Dave Campbell's Texas Football Magazine. In 2001, Phillips was inducted into the Cotton Bowl Hall of Fame for his performance in the 1965 and 1966 Cotton Bowl games. He made a total of 26 tackles between both bowl games and led his team to win the Cotton Bowl in 1965.
Phillips was selected to the Chicago Bears in the first round of the 1967 NFL Draft. He played for the Bears from 1967-1969; during his second season, he made 9.5 sacks and two interceptions. His time in the NFL was shortened by a vascular defect condition called chronic thrombosis phlebitis, causing blood clots after a calf injury. He was traded to New Orleans in 1970 where he took medical retirement. Phillips' only injury-free season was in 1968.
Phillips was inducted into the Arkansas Sports Hall of Fame in 1986, the University of Arkansas Hall of Honor in 1990, the College Football Hall of Fame in 1992 and the SWC Hall of Fame in 2014.
Phillips will be one of seven inductees honored at the Texas Sports Hall of Fame banquet on March 30. He will be joined by the family of former Tennis legend Maureen Connolly Brinker (deceased), former Houston Texas Wide Receiver Andre Johnson, former professional basketball star Nancy Lieberman, former University of Texas and MLB pitcher Greg Swindell, former Texas A&M and NFL kicker Tony Franklin and former Dallas Cowboys All-Pro Tight End Jason Witten.
The class of 2019 Inductees will be honored on Saturday, March 30 at 6 p.m. at the Waco Convention Center. Before the banquet, the Texas Sports Hall of Fame will host a reception at 4 p.m. Combination Reception and Banquet tickets can be purchased for $200 each or $1,400 for a reserved table of eight. Tickets for the banquet only can be purchased for $75 each or $600 for a reserved table of eight. To purchase tickets or for more information, please call 800-567-9561 or visit http://www.tshof.org/buy-tickets/.
###
About the Texas Sports Hall of Fame:

The Texas Sports Hall of Fame and Museum, located in Waco, Texas, chronicles the heroes and legends of the Lone Star State sports at all levels, including high school standouts, Olympians and professionals. Established in 1993, the organization's mission is to preserve the legacies of all inductees and the history of sports in Texas to educate and inspire guests of all ages. Home to over 300 Texas Legends, the museum houses Texas Tennis Museum and Hall of Fame and Texas High School Football Hall of Fame. For more information, please visit http://www.tshof.org/.
Back to index...