News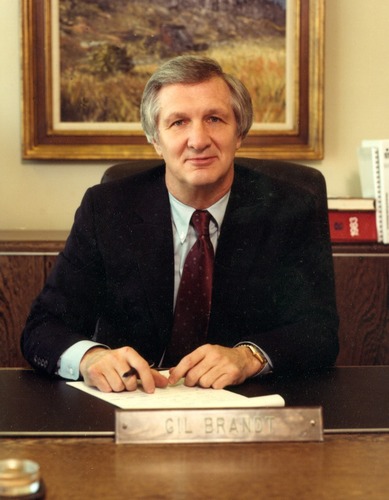 WACO, Texas (Feb. 7, 2019)—The Pro Football Hall of Fame announced Saturday that Texas Sports HOF inductee Gil Brandt will be inducted into the Pro Football HOF in August.
Brandt worked for the Cowboys as their chief talent scout since the organization's beginning in 1960, up until 1988. He worked as the Vice President of Personnel for the Cowboys and helped create the organization into one of the most dominant franchises in all of sports.
Brandt was vital in creating many of the scouting techniques used by NFL organizations currently, including an easier and more technologically advanced scouting and evaluation system for prospects. He also pioneered the use of computers for scouting and evaluating talent, using a system that defines traits, measureable qualities and skills that could be expressed as numbers in a formula. He helped discover potential prospects that were playing in other sports, such as Bob Hayes, Ron Howard and Wade Manning. He implemented the use of psychology tests to identify the mental state and personality of prospects and helped to create the NFL Scouting Combine to centralize the scouting evaluation process.
His reputation also included acquiring high draft choices by making trades that lead to players such as Randy White, Ed Jones and Tony Dorsett. He oversaw the selection and signing of 10 players now in the Hall of Fame and 15 players that are in the Cowboy's Ring of Honor, an honor that Brandt himself received last year.
"Gil Brandt set the standard for all scouts and personnel executives to follow, and aspire to, in the NFL… We are so proud of his accomplishments with the organization and just as grateful for what he has done over the course of the last 30 years an ambassador for the NFL, the Dallas Cowboys and the game of football," said Cowboys owner and GM Jerry Jones to the Cowboys news website.
Brandt helped lead the Cowboys to winning records in 20 consecutive seasons, 13 division titles, six conference championships and two Super Bowl victories.
After his time with the Cowboys, Brandt later returned as a print analyst and draft expert for the NFL in 1995, and currently contributes to NFL.com as a senior analyst. He is a major contributor in selecting the Playboy All-American football team and is heavily involved in inviting collegiate players to the NFL Draft every year.
Brandt was announced as an inductee into the Pro Football Hall of Fame on Feb. 2, a day known as "Selection Saturday." He will join cornerback Champ Bailey, contributor Pat Bowlen, tight end Tony Gonzales, cornerback Ty Law, center Kevin Mawae, safety Ed Reed and safety Johnny Robinson at the Enshrinement Ceremony on Aug. 3, 2019 at the Tom Benson Hall of Fame Stadium in Ohio.
Brandt was inducted into the Texas Sports Hall of Fame as part of the Class of 2015, along with Zelmo Beaty, Ty Detmer, Cliff Harris, Richard Quick, Nolan Richardson, Everson Walls and Jeremy Wariner.
###
About the Texas Sports Hall of Fame:

The Texas Sports Hall of Fame and Museum, located in Waco, Texas, chronicles the heroes and legends of the Lone Star State sports at all levels, including high school standouts, Olympians and professionals. Established in 1993, the organization's mission is to preserve the legacies of all inductees and the history of sports in Texas to educate and inspire guests of all ages. Home to over 300 Texas Legends, the museum houses Texas Tennis Museum and Hall of Fame and Texas High School Football Hall of Fame. For more information, please visit http://www.tshof.org/.
Back to index...