News
Texas Sports HOF to Induct Former University of Texas All-Star Pitcher Greg Swindell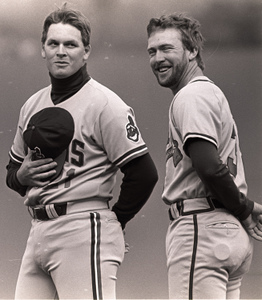 Swindell joins Jason Witten, Andre Johnson, Nancy Lieberman and more at the HOF's annual induction banquet on March 30.
WACO, Texas (Feb. 1, 2019)—Former University of Texas and Houston Astros pitcher Greg Swindell will be inducted into the Texas Sports Hall of Fame in Waco along with six other Texas sports legends on March 30.
A Fort Worth native, Swindell attended Sharpstown High School, where he led his high school baseball team to the Texas Class 5A State Championship with a 14-0 on mound and a 0.65 ERA.
After graduation, Swindell joined the University of Texas Longhorn baseball team as their star pitcher, later becoming one of the most decorated pitchers in the university's history. With a 1.92 ERA, Swindell compiled a 43-8 record in 77 games. He started in 50 games, during which he pitched 32 complete games and broke university records for shutouts at 14 and strikeouts at 501.
Swindell also remains among the top 10 All-Time in Longhorns history for multiple records, including his ERA at number 10. He placed 6th in career saves, 4th in appearances, 3rd in starts, as well as 3rd for complete games and victories. He also placed 2nd in innings and strikeouts and first in shutouts. He had the top two single-season strikeout totals in the program's history with 204 in 1985 and 180 in 1986.
Swindell was a member of three Southwest Conference title teams that had at least 51 wins during each of his three seasons. In 1984 and 1985, Swindell lead the Longhorns to finishing second at the College World Series. In 1985, Swindell had a 1.67 ERA and 19-2 record with 15 complete games, 204 strikeouts over 172 innings and six shutouts. He received Baseball America's Freshman of the Year award and Freshman All-American honors in 1984. He was a first-team All-SWC performer and All-American all three of his seasons. In 1985, Baseball America named him Player of the Year, and he was also a three-time finalist for the Golden Spikes Award.
Swindell was chosen in the 1986 MLB draft by the Cleveland Indians. His professional record from 1988-1991 had an ERA below 4.00 in three of the four seasons with a record of 52-43. His best season had a 3.20 ERA with a record of 18-14, walking only 45 and striking out 180. In 1989, he was named to the All-Star team. He also played for the Cincinnati Reds, Houston Astros, Minnesota Twins and then finished his career with the Arizona Diamondbacks, winning the 2001 World Series.
He retired after 17 seasons of playing in MLB and returned to the University of Texas to coach and help the team to win another College World Series.He was inducted into the College Baseball Hall of Fame in 2008. Since 2011, he has worked as an analyst for UT baseball. Swindell will be one of seven inductees honored at the Texas Sports Hall of Fame banquet on March 30. He will be joined by the family of former Tennis legend Maureen Connolly Brinker (deceased), former Houston Texas Wide Receiver Andre Johnson, former professional basketball star Nancy Lieberman, former University of Arkansas Outland Trophy winner Loyd Phillips, former Texas A&M and NFL kicker Tony Franklin and former Dallas Cowboys All-Pro Tight End Jason Witten.
The class of 2019 Inductees will be honored on Saturday, March 30 at 6 p.m. at the Waco Convention Center. Before the banquet, the Texas Sports Hall of Fame will host a reception at 4 p.m. Combination Reception and Banquet tickets can be purchased for $200 each or $1,400 for a reserved table of eight. Tickets for the banquet only can be purchased for $75 each or $600 for a reserved table of eight. To purchase tickets or for more information, please call 800-567-9561 or visit http://www.tshof.org/buy-tickets/.
###
About the Texas Sports Hall of Fame:

The Texas Sports Hall of Fame and Museum, located in Waco, Texas, chronicles the heroes and legends of the Lone Star State sports at all levels, including high school standouts, Olympians and professionals. Established in 1993, the organization's mission is to preserve the legacies of all inductees and the history of sports in Texas to educate and inspire guests of all ages. Home to over 300 Texas Legends, the museum houses Texas Tennis Museum and Hall of Fame and Texas High School Football Hall of Fame. For more information, please visit http://www.tshof.org/.
Back to index...