News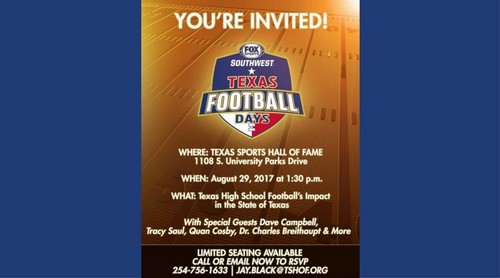 WACO, TX – Aug. 25, 2017 – The Texas Sports Hall of Fame (TSHOF) is partnering with FOX Sports Southwest to host a round-table discussion as a part of the week-long Texas Football Days event.
Texas Football Days is a week-long event celebrating the state's unmatched passion for football. FOX Sports Southwest is honoring the sport during a week-long event that will culminate with two live high school football broadcasts on Friday on FSSW. The celebration will continue on Saturday with four Big 12 college football games on the FOX family of networks.
"We wanted to create a signature event that celebrates and captures the cultural significance of football in Texas," said FOX Sports Southwest Sr. Vice President/General Manager Steve Simpson. "Our broadcasts will have a limited commercial format, allowing us to tell stories that highlight communities, legends and traditions from the small town schools to the large metropolitan area programs."
As a part of Texas Football Days, the round-table discussion will be held at the Texas Sports Hall of Fame in Waco on Tuesday, August 29, at 1:30 p.m. and will discuss the impact of high school football in Texas.
The discussion will consist of a panel of speakers including former NFL receiver and Texas Longhorn, Quan Cosby, former Texas Tech All-American defensive back, Tracy Saul, Executive Director of the UIL, Dr. Charles Breithaupt, author of "The Republic of Football", Chad Conine and Denton school district athletic director, Ken Purcell.
"The Texas Sports Hall of Fame is honored to host a discussion with such a talented and accomplished panel of speakers," said Jay Black, Vice President of Museum Operations at the Texas Sports Hall of Fame. "Football is one of the many sports we treasure at the museum and we are excited to be a part of celebrating it," Black added.
Limited seating is available; please contact Jay Black at [email protected] or (254) 756-1633 to reserve your spot!
For more information about the Texas Sports Hall of Fame please visit www.tshof.org
Back to index...