News
During the 2017 Baylor Football Season the Texas Sports Hall of Fame will be available for private rentals inside the museum. (see pricing below on rental flyer)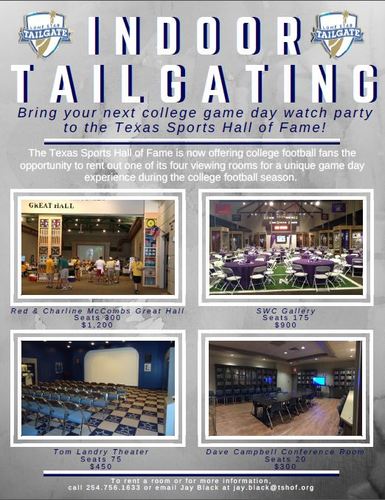 The museum will be closed to the public during game days.
2017 Baylor Home Football Schedule
September 2nd vs. Liberty
September 9th vs. UTSA
September 23rd vs Oklahoma
October 21st vs. West Virginia
October 28th vs. Texas
November 18th vs. Iowa State
PARKING
A limited number of parking spaces will be available for each game starting on September 9th . Spaces are $50 each per game. No RV or trailer parking will be available. Please contact Krista Martin for availability – krista.martin @tshof.org or by calling 800-567-9561.
Back to index...