Bridges, Frank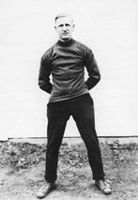 Born:
July 4, 1890 - 1970
Hometown:
Waco
Sport:
Football
Team:
Baylor
Bio:
Throughout his successful career as the head football coach at Baylor, Frank Bridges attempted nearly every trick and strategy the rules allowed. He is known for introducing the spread formation, the hidden-ball play, the end-around, and the tackle-around. Bridges spent six years as the head coach of the Bears (1920-25) and compiled a 35-18-6 record. In 1922 and 1924, he directed Baylor to its first Southwest Conference championships. He also coached the Baylor baseball team to the school's last undisputed Southwest Conference crown in 1923. He worked for several years as a major-league scout and signed several outstanding players. Bridges was inducted into the Texas Sports Hall of Fame in 1973.
Quote:
"He was very far ahead of his time. I consider him the 'daddy' of the spread formation and the end and tackle-around plays. He's also recognized as one of the innovators of the hidden ball play." Coach Henry Frnka
Bibliography:
Freeman, Deene. That Good Old Baylor Line. Strode Publishing, 1975.