Stallings, Gene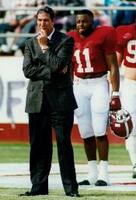 Born:
March 2, 1935 -
Hometown:
Paris, TX
Sport:
Football
Team:
Texas A&M, Alabama, St. Louis Cardinals
Nickname:
"Bebes"
Bio:
Gene Stallings was one of two Paris High School left ends who would greatly impact football - the other was Raymond Berry. Stallings, a sophomore survivor of Bear Bryant�s Aggie training camp at Junction in 1954, was a senior captain of the 1956 unbeaten, once tied Aggies. His first coaching assignment was as a student assistant, followed by seven seasons with Bryant at Alabama. Stallings returned to A&M to serve as head coach for seven years (1965-1971) highlighted by the 1967 SWC title and Cotton Bowl win over Bryant at Alabama. He began his pro career in 1972, serving 14 years on Tom Landry�s staff with the Dallas Cowboys (1972-1985) and four years as head coach of the St. Louis/Arizona Cardinals (1986-1989). Stallings went back to Tuscaloosa in 1990 and promptly returned the Crimson Tide to prominence. After a 7-5 start, his Alabama teams went 11-1-0, 13-0-0, 8-3-1, & 12-1-0 with three top five rankings. His 1992 team won the National Championship with a 34-13 victory over Miami in the Sugar Bowl. Stallings was inducted into the Texas Sports Hall of Fame in 1996.
Bibliography:
Stallings, Gene. Passing the Torch Gene Stallings� 70 Victories at Alabama. Birmingham, AL: Pachyderm Press, 1997.