Mancuso, August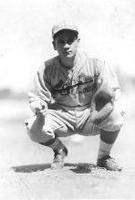 Born:
December 5, 1905 - October 26, 1984
Hometown:
Galveston
Sport:
Baseball
Team:
St. Louis Cardinals, NY Giants, Chicago Cubs, Brooklyn Dodgers, Philadelphia Phillies
Nickname:
"Gus"
Bio:
Galveston's August "Gus" Mancuso was a major-league catcher for 17 years (1928-1945). In his big-league career, he batted .265 in 1,460 games, including a remarkable .366 in 1933, his rookie year. He played for the St. Louis Cardinals (1928-32, 1941-42), New York Giants (1933-38, 1942-44), Chicago Cubs (1939), Brooklyn Dodgers (1940), and Philadelphia Phillies (1945). Mancuso, a two-time all-star, played in five World Series and was a member of championship teams with St. Louis (1931) and New York (1933). In 1936, he established a World Series single-game record for the most chances and putouts by a catcher. He was also the manager of the San Antonio Missions baseball team in 1948 & 1949. Mancuso was inducted into the Texas Sports Hall of Fame in 1980.
Quote:
"Just think. I caught five pitchers who made the Baseball Hall of Fame. I wouldn't swap that honor for any other, in any type business." Gus Mancuso speaking of Carl Hubbell, Grover Cleveland Alexander, Dizzy Dean, Burleigh Grimes and Jesse Haines