Kinney, Bob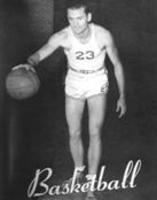 Born:
September 16, 1920 - September 2, 1985
Hometown:
San Antonio
Sport:
Basketball
Team:
Rice, Fort Wayne Pistons, Boston Celtics
Bio:
At 6'6, Robert Paul Kinney was the first "big man" from the Southwest Conference to earn consensus All-American honors in basketball. That was in 1942 after a three-year career as a starter at Rice Institute. With Kinney in the lineup, the Owls compiled 62-14 record, winning the Southwest Conference title in 1940 and sharing it in 1942. Low-scoring games were the norm at that time, yet Kinney totaled 1,000 varsity points. Not surprisingly, he won first team All-Southwest Conference honors three times and All-America twice. He later played with the champion Fort Wayne Pistons for five seasons and the Boston Celtics for three before retiring in 1950. Kinney was inducted into the Texas Sports Hall of Fame in 1984.