Humble, Weldon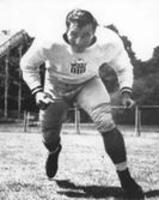 Born:
April 24, 1921 - April 14, 1998
Hometown:
San Antonio
Sport:
Football
Team:
Rice, Cleveland Browns
Bio:
In a career that began at Rice University in 1940 and successfully continued in the pro ranks, Weldon Humble earned a reputation as one of the finest interior linemen in Texas football history. In 1942, he earned All-Southwest Conference honors, but his college years were interrupted when he served in the Marines during World War II. When he returned to Rice in 1946, he lettered in football and track and field, became a consensus first-team All-American guard while a captain of the Southwest Conference co-champion team, and led the Owls to victory over Tennessee in the 1947 Orange Bowl game. He later joined the Cleveland Browns and played in the first pro All-Star game in 1950 and was twice named All-Pro. Following retirement, he was voted into the College Football Hall of Fame (1961), Texas Sports Hall of Fame (1969), South Texas Football Hall of Fame (1969), and the Rice University Athletic Hall of Fame (1970). Humble was also named to the 50th Anniversary All-Time Southwest Conference team for the years of 1919-1968.
Quote:
"...an exceptional athlete, a fine competitor, and a genuine leader." Rice Football Coach Jess Neely