EVENTS
20th TSHOF Bob Lilly Celebrity Golf Classic ::
Date: Friday June 16, 2017
Time: 12:00 PM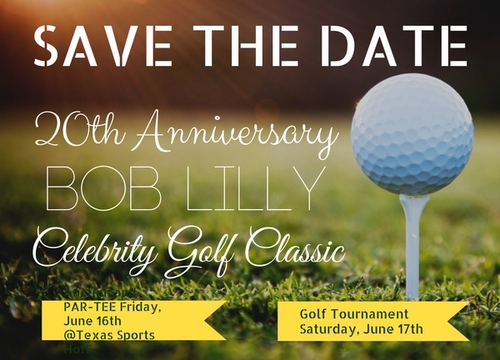 20th TSHOF Bob Lilly Celebrity Golf Classic ::
Date: Saturday June 17, 2017
Time: 12:00 PM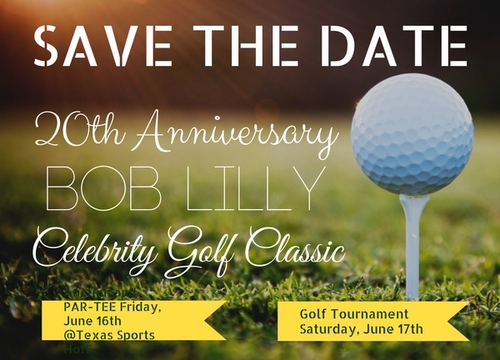 1st Annual Texas Sports Hall of Fame Book Festival ::
Date: Saturday July 15, 2017
Time: 10:00 AM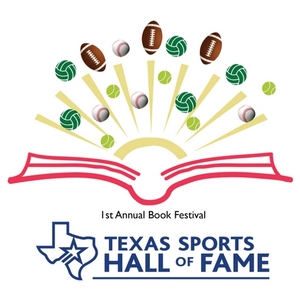 1ST ANNUAL BOOK FESTIVAL
Saturday July 15, 2017
10am - 4pm
FREE ADMISSION

SPONSORED BY
TEXAS A&M UNIVERSITY PRESS
WACO CITY CABLE CHANNEL
TEXAS TECH UNIVERSITY PRESS


FEATURED AUTHORS

• R. Gaines Baty, Champion of the Barrio - The Legacy of Coach Buryl Baty
• Chad Conine, The Republic of Football - Legends of the Texas High School Game
• Mel Renfro (signing only), Forever a Cowboy
• Mac Engle, Pigskin Rapture: Four Days in the Life of Texas Football
• Robert Jacobus, Houston Cougars in the 1960s: Death Threats, the Veer Offense, and the Game of the Century
• Al Pickett, Mighty, Mighty Matadors, Lubbock Estacado High School Integration and a Championship Year
• Carlton Stowers, Where Dreams Die Hard, Staubach, Oh Brother, How They Played the Game and Texas Football Legends
• Jeff Miller, The Game Changers: Abner Haynes, Leon King, and the Fall of Major College Football's Color Barrier in Texas
• Jim Reeves, Dallas Cowboys: The Legends of America's Team
• Bill Brown, Houston Astros: Deep in the Heart – Blazing a Trail from Expansion to the World Series
• Frank Sikes, West Texas Middleweight, The Story of LaVern Roach
• Tim Price, Shooting for the Record: Adolph Toepperwein, Tom Frye, and Sharpshooting's Forgotten Controversy
• Ed Housewright, Beyond Just Win A Profile of G.A. Moore Texas High School Football's No. 1 Coach
• Ryan Bush, The Dirty Dozen: How Twelve Rookies, the Shotgun, And A Hail Mary Vaulted the 1975 Dallas Cowboys Into the Super Bowl
Putt Riddle, Friday's Winners


For more information about the book festival or the Texas Sports Hall of Fame, please visit tshof.org, or call 254-756-1633.