News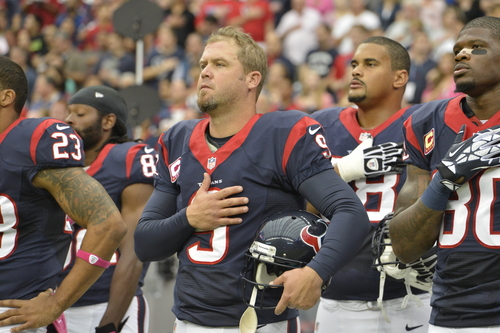 WACO, Texas (March 10, 2020) - Former Houston Texans Kicker Shane Lechler will be inducted into the Texas Sports Hall of Fame on March 28.
Shane Lechler was an all-district quarterback, punter, and kicker at East Bernard High School, where he passed for nearly 5,000 career yards and led the Brahmas to the state quarterfinals as a senior. He also averaged 41.6 yards per punt in high school, with a best of 85 yards.
He signed with Texas A&M, where he became a two-time all-American punter (1998 & 1999) and set an NCAA record with a career average of 44.7 yards.
Lechler punted for the Oakland Raiders from 2000-2012 and the Houston Texans from 2013-2017. Lechler's career punting average of 47.6 yards per kick is the best in NFL history. Lechler set the record by surpassing fellow Texas Sports Hall of Fame member Sammy Baugh who's average of 45.1 had stood since 1952. Lechler's total yardage for punts is 68,676 yards is second only to Jeff Feagles.
Lechler led the NFL in punting five times, including 2009, when he averaged 51.1 yards per punt for the Raiders. Only Sammy Baugh's 51.4-yard average in 1949 was better. Lechler also has the fourth-best season average (50.8 in 2011) and is tied for 10th best (49.1 in 2017).
Lechler was selected to the Pro Bowl seven times and was named First Team All-Pro six times. He was also named the NFL's Punter of the Decade for the 2000s.
Lechler will be one of seven inductees honored at the Texas Sports Hall of Fame on March 28. He will be joined by Baltimore Ravens Quarterback Robert Griffin III, former New York Liberty point guard Teresa Weatherspoon, International soccer star Clint Dempsey, Olympic medalist Michelle Carter, Former Texas Rangers baseman Adrian Beltre and five-time US Olympic runner Francie Larrieu Smith.
The class of 2020 inductees will be honored on Saturday, March 28 at 6 p.m.at the Waco Convention Center. Before the banquet, the Texas Sports Hall of Fame will host a reception at 4 p.m. Combination Reception and Banquet tickets can be purchased for $200 each or $1,400 for a reserved table of eight. Tickets for the Banquet Only can be purchased for $75 each or $600 for a reserved table of eight. To purchase tickets or for more information, please call 800-567-9561.
###
About the Texas Sports Hall of Fame:
The Texas Sports Hall of Fame and Museum, located in Waco, Texas, chronicles the heroes and legends of the Lone Star State sports at all levels, including high school standouts, Olympians and professionals. Established in 1993, the organization's mission is to preserve the legacies of all inductees and the history of sports in Texas to educate and inspire guests of all ages. Home to nearly 400 Texas legends, the museum houses the Texas Tennis Museum and Hall of Fame and the Texas High School Hall of Fame. For more information, please visit http://www.tshof.org.
Back to index...