Directions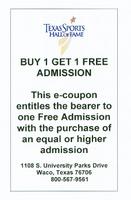 The Texas Sports Hall of Fame is conveniently located at 1108 S. University Parks Drive in Waco, Texas just a block east of Interstate 35. When travelling on I-35 take the University Parks Exit (335 B).
Click below to follow the link for a map to the museum.
Mapquest
WHEN TRAVELLING SOUTH ON I-35 FROM DALLAS / FT. WORTH
Take Interstate 35 South
Exit to the right at the University Parks Exit - 335B (just south of the Brazos River)
Turn left at the light onto University Parks Drive
Turn left at the 2nd stop light
Then take the first left into our parking lot

Note - The museum is housed in a tan, stone building which is located adjacent to the Baylor University Campus.
The Texas Sports Hall of Fame is located next to Baylor's Hughes-Dillard Alumni Center, the Baylor Law School and the American Football Coaches Association Headquarters. Ideally situated in the Brazos River Corridor, we are also located right around the corner from the Texas Ranger Hall of Fame and Museum.
WHEN TRAVELING NORTH ON I-35 FROM SAN ANTONIO / AUSTIN
Take Interstate 35 North
Exit to the right at the University Parks Exit - 335B (just south of the Brazos River)
Turn right onto University Parks Drive
Turn left at the 1st stop light
Then take the first left into our parking lot
WHEN TRAVELING ON HIGHWAY 6 FROM HOUSTON / COLLEGE STATION
Take Highway 6 through Marlin & Riesel
Go past the Loop 340 Exit and look for the Baylor University Exit
Take the Baylor University Exit (to the left)
After crossing the Brazos River turn Right onto University Parks Drive (next to the gold domed Ferrell Center)
Turn Right at the 2nd Light
Take the first left into our parking lot